MarketClub TV Premiere is Going Live
MarketClub has announced the MarketClub TV premiere, their latest educational offering and is inviting all to check it out with their premiere episode.
I'm excited to see for myself what's being offered because one of the benefits of MarketClub has always been to help take emotions out of one's trading.
Going over the info they've released so far, they're taking this to the next level by helping point out trading opportunities for you, each week. In addition, for all of you who like to ask questions, it seems you'll be able to do so making this new offering similar to a coaching program with a Q&A session.
Here's the details about the new program and how to sign up at no cost for the premiere episode. Don't miss out your chance to see what's being offered, sign up below today:
---
New profit opportunities brought to you live each week - starting this Thursday at 7pm
This is it, the moment every trader has been waiting for...
After weeks of planning and preparation, our friends at MarketClub have officially announced the launch of MarketClub TV.
And you are officially invited to join them ONLINE for the premiere episode:
Join us ONLINE for the premiere episode of MarketClub TV
At 7:00pm eastern, Thursday, March 17th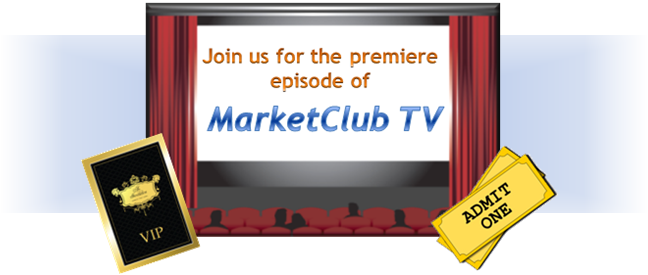 You are going to both love and be blown away by MarketClub TV and the LIVE, INTERACTIVE, wealth-building tips, news, insights and money-making plays it gives you.
Yes, that's right - I said 'interactive'. Each week Adam Hewison and his team at MarketClub will...
Discuss the biggest movers and shakers of the week
Uncover the hot, new trading opportunities that are starting to take shape...
Look at powerful, ongoing trends and the best ways for you to profit from them...
Show you MarketClub's proprietary Trade Triangles in action and illustrate the easiest, most effective ways to use them...
Plus much, MUCH more!
Here's the best part of all though: Throughout each show you'll be able to email... instant message ('chat')... Tweet... or call in any questions, comments, or ideas you may have and we'll go over them right then and there, live on the air.
In other words, you'll be getting the kind of tips, picks, news and insights that can launch your trading success to an all new high...
You'll be able to watch it all LIVE, each week, in the comfort of your own home for FREE.
You'll be able to talk with us, ask any questions you may have, and get the answers you need on the air, right then and there.
And, if you happen to miss an episode, there's no need to worry - you'll be able to replay any episode you like, whenever you like, as often as you like.
MarketClub TV will be broadcast LIVE, online Thursday evenings at 7:00pm eastern - starting with the premiere episode is this Thursday, March 17th.
PLUS, to kick things off with a bang, one lucky viewer will win a 1-year membership to MarketClub. Everyone who registers to watch Thursday's premiere episode will automatically be entered into the drawing. And the winner will be announced LIVE during the show.
Just you wait and see - MarketClub TV is going to rock your world! See you there!
---
---
Elliott Wave Videos
Free Newsletter Updates
Trading Resources